Mayor Wu Jin of Huangshi visited Wanbang Motors
Writer: admin Time:2020-06-30 11:55 Browse:℃
On the morning of June 14, Huang Jin Mayor Wu Jin and his entourage went to Hubei Wanbang Motor Co., Ltd. to conduct on-site investigation and inspection work, which was warmly welcomed by the company's chairman Zhang Jun and the management.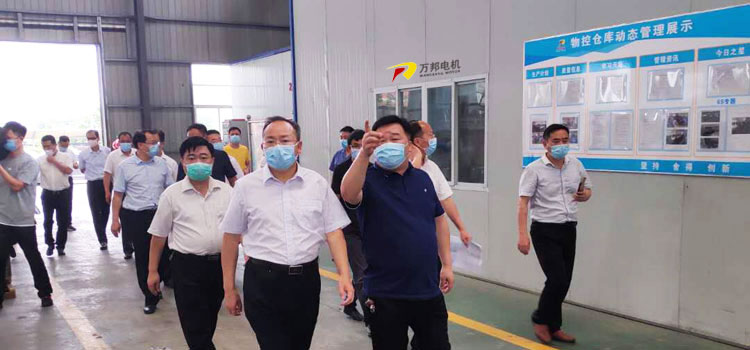 Mayor Wu Jin investigates in Wanbang Motor Workshop
Pictured: Mayor Wu Jin and his party are investigating on the production site of the motor workshop
Mayor Wu Jin watched the production site dynamics of the company's high-efficiency and energy-saving motor products in the workshop, and learned in detail about the company's product types, R&D progress, patent approval, etc. Chairman Zhang Jun reported to the company's management and development status to the leaders. The company has entered a period of rapid development since 2015, and the amount of tax paid has increased significantly year by year. At present, it has owned more than 100 national invention patents, and has won the famous trademark of Hubei Province and the title of Hubei High-tech Enterprise. The company has continuously increased investment in research and development of product technology innovation and consistency evaluation for several consecutive years. At present, the company's permanent magnet synchronous motor has been officially put into production. In the next step, the company will increase investment and production scale, build a motor R&D building and intelligent production workshop, etc., and hope that the municipal government and relevant departments will give strong support to make the motor into a high-efficiency and energy-saving motor field in Huangshi City and Hubei Province. Demonstration enterprise. Mayor Wu Jin spoke highly of Wanbang Electric after hearing it.